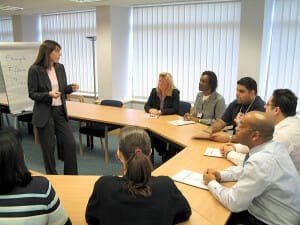 Culture has been defined as: How you do what you do. Without a clear vision, a defined culture and enterprise-wide adoption, your team is only as strong and effective as your weakest links. From on-boarding through retirement, everyone on your team needs to be embracing your culture and working in sync towards your goals. Not only do you need the right people, but you need the right people in the right places.
For more than 20 years SYNERGY CUBED has been developing and facilitating customized training seminars. Audiences have included sales teams, front-line service staff, personal trainers & group ex instructors, middle management and senior executives. Topics have addressed sales & sales skills, customer service, profit center optimization, communication skills and many, many more.
Contact us today to discuss how we might help you.
Training & Development is the unsung hero of success, ensuring your company's standards, guidelines and protocols are followed and your culture is implemented – across all levels and in all departments. Everyone, in every department, must understand your vision, share your goals and implement your principles with professionalism, consistency and ease. With competition around every digital corner, why take chances?